Top Chef: New York
Episode: Reunion (Or, Would You Like A T-Shirt With That?)
March 4, 2009
Welcome to the reunion show. Your host will be Bravo guy Andy Cohen, who, now on HD, appears to have put on a few and seems to have a nasty case of smoker's teeth. Let's watch what happens! (Or should that be "! watch what happens"?)


With us tonight are our 72 contestants, our judges ... and that quippy troll they shipped in to torture us for a few weeks and if the Flying Spaghetti Monster is merciful will be banished from all future seasons.
Of course, since the game is over, tonight will be an exercise in repetition and spin with the only "mystery" being who will be the winner of Fan Favorite?
After everyone has a good laugh at the concept that certain chefs could possibly win that prize, the nonsense begins.
Chef Stefan
reveals he's a secret lurker on the blogs and pretends he has a chance for the prize. A second later, he drops the charade and admits he went to the web site to at least get himself a few votes. (
Once again, The Mighty Finn breaks character.
)
They congratulate this season's winner,
Chef Hosea
with a hearty round of golf claps. He says that, like all of us, he still doesn't believe it's happened. The industrial sized vat of Mylanta™ in my cupboard, though, suggests that, yes, it did.
Montage #1:

Recap of Hosea's Product-Placement-Worthy Journey of Mediocrity. (Note that they had only two shots of this clown winning anything before the finale along this Journey.)
Viewer Question:

What's the deal with Team Eurotrash™ and their love affair?
Cue the obligatory Bravo "bromance" crap.
Montage #2:

Fabio and Stefan meet when they share a car ride from Chicago to New York and hate each other instantly. They run into each other a few times before becoming best friends. Still, despite all attempts at staying apart and showing how well they can each fake orgasms in public places, they finally confess their love for each other on New Year's Eve and live happily ever after.
Chef Fabio
denies ever playing "hide the zucchini" with Stefan. Fabio declines an offer to join Team Rainbow and explains that his make-out sessions with Stefan were strictly a European thing and says that his breaking his finger during one episode had nothing to do with a Stefan-related bondage mishap.
Everyone laughs and Stefan is handed his very own "I ♥ (Fabio's Head)" t-shirt. (
Now available at bravotv.com!
)
Montage #3:
It's
Chef Carla
of the Fourth Dimension! See Carla meditate! See Carla do yoga! See Carla meditate more! See Carla summon up her spirit guides! See Carla abuse the cast with hastily re-written show tunes! See everyone fighting the urge to shove a paring knife through Carla's third eye!
Carla goes over the whole "hootie hoo" sillyness with Andy Chest Hair and says that, yes indeed, the world is now torturing her with that no-longer-secret thing she had with her hubby.
Afterwards, she talks about how she came to really shine in the competition and became the favorite to win (if only she hadn't listened to that no-longer-Fan-Favorite Casey in the finale).
Grumble, grumble. Note to self: Order more Mylanta™.
Montage #4:

Unseen footage! It seems that there was another curse this year (aside from Leah's mere presence). A Birthday Curse! As each chef's birthday approached, it seemed that he or she would be eliminated. First,

Chef Daniel

's birthday. Knifed! Next,

Chef Eugene

! Happy Birthday and ... pack your knives and go. Then,

Chef Radhika
.
Happy 28th ... now leave
. Padma learns of the curse, says her own birthday is coming (as if that matters), and notes that

Chef Leah

's birthday is next. Leah then blows

Hosea

out the candles and goes.
Next,
Fake-Out Montage
! We hear the creative monkeys in
Chef Jeff
's head. Cackle with delight when Jeff, who is prone to making complicated dishes, is edited to sound like he put 78 ingredients into each dish!
Awwww, slicing people's words up and moving them around to seem like total morons is fun!
Fake-Out Montage
over!
Viewer Question:

What's the deal with Tom saving someone's life?
Yep, Tom performed the Heimlich Maneuver on a lady at a party. Next.
Viewer Question:

For Gail. Is Baldy McQuipperton really as big a douche as he seems?
Gail, who was spared having to spend any time with the schmuck, says that he's not really an annoying little troll of a man who makes idiotic analogies about people's dishes to get camera time and to bring
Top Chef
in line with every other show which has the obligatory "acerbic British judge." It's all in the editing.
Speaking of which ...
Montage #5:

Mean comment montage! Cat food! Nuclear waste! And spitting food into your napkin!
Padma is chagrined for the last bit and apologizes to
Chef Ariane
for it
.
She graciously accepts the apology.
Chef Melissa
speaks. We don't care. (Though we do notice that she's lost the awful choppy bangs, for which we are all eternally grateful.)
Stefan interjects something about pooping small rectangular blocks typically made of fired or sun-dried clay whenever he'd face the judges. He jokes about his weak heart and lies then about his age. "I'm 36!"
"You're 38!" yells Leah, correcting the fucker.
Tom explains how chefs have to develop a thick skin and restaurant critic Quipperton says something moronic about destroying people because he desperately wants them to succeed. (
Well, we
do
bomb the hell out of countries because we desperately want them to be thriving democracies, so maybe there's some truth to this.
)
We get a question from a viewer who (for some unknown reason) asked about the two losers who went out in the first episode. And (for some unknown reason) we spend time talking to them.
And then, the spit-your-lunch-out-into-your-lap moment we all knew was the only reason for this reunion: HoLeah.
Here we go
, he said flatly.
Montage #6:

Hosea and Leah meet when he's driving down Hollywood Boulevard and stops to ask for directions and she's working the corner. For $20, she takes him back to his hotel and by the next morning, they've made a business arrangement to have her spend the week with him. They take bubble baths together, learn that they're both in the business of screwing people for money and finally confess their love on a fire escape. ... Oh, yeah, and there's porno woka-chicka-woka-chicka music in there somewhere.
In fact, the only worthwhile moment of this whole thing is watching Leah (in the studio) looking at the montage (on the screen) and freaking out that, again, they're showing her interview talking about the boyfriend she had at home when she and Hosea were "flirting" in the house.
"Can we
please
not fucking show that?!" she blurts.
The question comes: what happened the night of their "flirting"? Hosea babbles about boredom, alcohol and nothing else to do. He asserts that he and Leah aren't the first two on this show to ever hook up, but are the first to ever "get caught." (
Read: "be making out with another contestant while each wearing live body mikes."
)
Andy Needs WhiteStrips challenges Hosea to name others who have done this. Hosea, wisely, does not.
Stefan tries to deflect the attention from the pair by asserting that everyone has "fucked around on someone," but it doesn't work. The question comes about what happened to Hosea and Leah's respective significant others when they each got back home.
Hosea says he broke up with his girlfriend when he got back. Leah says that she and her boyfriend stayed together for a bit (
read: until the "flirting" episode aired
) and then broke up.
Are Hosea and Leah together now?
No, since they're in different cities.
Would one of them relocate?
Leah says no; she likes New York. Hosea punts.
What if Hosea got an offer in New York?
Hosea punts again. They're just friends, he says.
"Friends with benefits?" someone asks.
The Mylanta™ runs out. We rush to order more.
Montage #7:

Unseen Stewed Room footage. The chefs get very crafty with sponsored plastic ware. And they know how to bust a move.
And then there's one priceless previously unseen moment.
Montage #8:

Chef Jamie
and Leah, on the night of the Superbowl challenge, know they're safe. So, in the Stewed Room, they get hammered. Everyone is concerned. And when they get before the judges they're
so
shitfaced that they can't stop giggling. Jamie, naturally, barely remembers anything about that night. ... Alcohol poisoning is funny.
So now we know that VH-1 doesn't have the market cornered on allowing people to destroy their liver for ratings.
From that we move into ...
Montage #9:

The annual Parade of Tears. Loser chick who didn't make it past the first ten minutes of the first episode cries. Ariane cries. My hunka-hunka-burnin' love

Chef Richard

cries. Ariane cries some more. Carla cries. Richard cries again. Finally, Leah says, "My mom said, 'Don't cry.' If I cry I look like a little bitch."
Oh, sweetie, don't be so hard on yourself. You look like a little bitch anyway.
After Ariane wins the Teary Tiara, we get another question for Stefan.
The viewer asks, where does his cock(iness) come from and where can she get some of it?
Please, dear viewer. You'll only encourage him.
Montage #10:
TheBestOfStefan. StefancrushesonJamie. Stefangetsahard-onforAndrea. StefanwanksoffcamerathinkingaboutGail'sboobies. Stefangoesfull-onTexAverywolfwhenPadma'snipplesentertheStewedRoom.
Andy 007-Adjacent asks Stefan why he's such an ass as to hit on Jamie (who is a lesbian). Stefan says something douchey. Jamie says she'd drink herself to death before she's sleep with him. (Which, naturally, everyone now thinks could actually happen.) Stefan makes a comment about Jamie's rack and ....
scene!
Ladies and gentlemen, what you have just seen is an educational film on how to properly create a "hostile work environment." So if you wish to experience first-hand what a sexual harassment lawsuit is like, just follow the patented Stefan Method! (
Instructional DVDs now available at bravotv.com!
)
We get a viewer question about the chefs giving each other nicknames, which leads us to ....
Montage #11:

Nicknames. We see 'em. There were lots of them. None of which were the slightest bit interesting or funny. ... You want proof? Hosea says he was called "O.T." because his name comes from the Old Testament. ... Did I tell ya?
Since the gang decided to dub Ariane "Cougar," despite the fact that she's neither an older woman who preys on younger men nor a large American wild cat with a plain tawny to grayish coat, found from Canada to Patagonia, Bravo decides to grace the 41-year-old chef with a "I'm a Cougar In the Kitchen" t-shirt.
We get to stroll down memory lane about Gail's wedding and her bridal shower. Of course, this is a sore subject because this is the event that caused us to suffer the Monkey Pox that is Toby Young.
Next, we get a question from a viewer for Radhika about her not wanting to be known as an Indian chef despite making a ton of dishes with Indian flavors. To her credit, she responds that she never made a traditional Indian dish, but incorporated Indian elements into many things.
Personally, I think she was just screwed for that comment in the first episode about not wanting to be known as the "Indian Chef," because if that hadn't aired she wouldn't be hammered any more for that than Hosea was for making a lot of seafood or Fabio for going Italian several times.


Then it's time for Jamie to face the heat.
Montage #12:

Jamie thinks she's going to win but comes in second to Ariane. And again. And again. Jamie complains that the chef whites are too stiff. Jamie complains that it's late and she's tired. Jamie complains that she woke up with Stefan's cock in her mouth. ... She's
such
a whiner!
Inquisitor Andy then directs his attention to Jeff. Jeff says he was "100% misquoted" when he allegedly said Tom's food was "boring." (Tom says he's been misquoted himself.) Jeff does cop to saying he felt like a piece of twinkish man meat when every episode featured him shirtless.
Montage #13:

The Attack Of Da Bald Headz.
Chef Patrick
, best known for his presence in the opening credits every week. Stefan. Fabio. Eugene. Tom. Quippy Da Douche.
Coming soon to a '90s Hip-Hop Throwdown near you!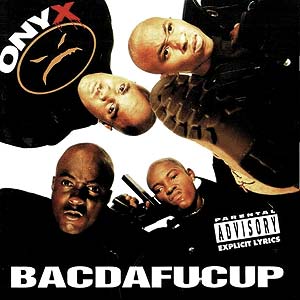 Andy then shows off "funny" pictures of the cue-ball chefs with digitally added hair.
You know how hysterical it is when you see them do that in a kiosk at the mall or at your local county fair? Yeah, it's that hysterical.
Next, now-goateed Richard gets to crush on Tom, fulfilling the contractual obligation to make Tom blush over all the attention he gets from "The Bear Community." Some chick with a headband in the back row who is no longer a chef tries to pipe up with a comment about women digging Tom too and then we move on.
Finally, it's time for the answer to who will win Fan Favorite?
Did Richard's Facebook campaign work? (
Worked for me, darlin'!
) Did Amuse Biatch's curse of the Fan Favorite strike again? (They picked Carla for it this year.)
And then we learn that this season's Fan Favorite is ... Fabio!
Atsa spicey meat-a-ball! Cue the footage.
Montage #14:

Fabio in all his Fabiousness. Fresh out-a-da boat. Everything a'taste betta wita da accent. Fabio's charming the panties off a room full of women. And, everyone's favorite, "Monkey ass in a clam'a shell." ... Good times.
Toby Fuckface throws off one last bullshit joke. Stefan says he'll get to eat free with Fabs for a while. Stefan gives us our first "it is what it is" of the season. (
Bingo! I have Bingo!
)
Now, let's end on an up. Fabs, how's your sick mom? Better. Good. And Hosea? How's your dad's cancer? Not so good? Ooooh kaaaay, on that cheery note ...
Join us next season for
Top Chef: New Orleans!
(It
is
New Orleans, right? Correct me if I'm mistaken.) And make sure you don't miss my season-long invisi-blog of
Make Me A Supermodel
!